Před nějakou dobou jsem řešil delikátní problém, studenti Střední školy aplikované kybernetiky Hradec Králové si postavili Prusa Mendel s updaty různě postahovanými online a pustili se s ní do soutěžení. Nejdříve vyhráli SOČ a pak České hlavičky. Problém je v tom, že mají všude podepsaná čestná prohlášení, že všechna práce je jejich nebo uvedli původní autory, nicméně, žádné citace zde nejsou a vydávají to za své.
Řešil jsem to pár týdnů a byl z toho akorát naštvaný a nevěřím, že se něco změní k lepšímu. Dávám proto alespoň online dokument, se kterým jsem bojoval a můžete sami posoudit, o co jde.
Ve zkratce ještě napíšu věci, které nejsou v oficiálním dokumentu.
Nejdříve jsem navštívil pana ředitele pana Ing. Jana Langa, abych mu řekl o problému, zde taky jsem dostal nabídku na "finanční odškodnění" za podmínky dalšího neřešení věci. Samozřejmě jsme odmítl. Oficiální vyjádření je, že škola v tom nemá žádný zájem a je to věc studentů. (Pozdějí jsem zjistil, že za vyhrané soutěže má škola body a peníze další rok.)
Kontaktoval jsem pana Václava Marka ml., pořadatele soutěže České Hlavičky, od kterého jsem nakonec i dostal informaci, že porota celý případ přezkoumala, uznala pochybení, ale zároveň nebylo tak velké, aby se nějaké ceny odebíraly. Dále bych podotknul oficiální tiskovou zprávu z vyhlašení, kde chlapci dostali ocenění za, cituji:
Za vlastní konstrukci, výrobu i softwarové vybavení 3D tiskárny získali, 
Václav Holler, Miloš Jedlička a spol., studenti kybernetiky ze 
Střední školy aplikované kybernetiky cenu Futura.
Nicméně v televizním přenosu pár týdnů po tom co jsem začal věc řešit, cenu dostali za konstrukci páky, která údajně sundavá předměty a systém na zprávu tiskové fronty
 Jen pro poznámku, objekty pákou prezentovanou v práci nejdou sundat, pokud je předem uživatel neodloupne.
V neposlední řadě jsem také kontaktoval porotu SOČ (Středoškolská odborná činnost), a to jmenovitě pana Miloslava Hlaváčka, který přislíbil, že porota věc bude řešit, ale on sám mi nemůže podat oficiální vyjádření. Nicméně odcituji jedno z jeho osobních vyjádření:
Mou snahou je, aby se problém vyřešil a přitom nebyly poškozeny již mnou citované
soutěže pro talentované středoškoláky a mám za to, že máte i se mnou v 
této věci shodné stanovisko.

Možná by stálo za úvahu, co mně nyní napadá, že byste autory práce "vzali 
pod svá křídla" a tyto, pokud se zajímají o tiskárny 3D a jsou schopni 
dále na sobě a problému pracovat, zapojit do Vámi řešených úkolů a zadáním 
drobných dílčích úkolů by Vám tito mohli být v ledasčem nápomocni a tím 
využít jejich potenciálu ke vzájemné spolupráci. Co Vy na to? 
Nebylo by to nakonec nejvhodnější řešení?
Oficiální vyjádření SOČ se mi bohužel zatím nedostalo.
Kdybych to měl shrnout, nejvíc mě mrzí, že jsem na Střední škole aplikované kybernetiky HK chtěl kdysi sám studovat. Děkuji všem zúčastněním za krásnou šarádu co sehráli a že se vlastně všechno vyřešilo i když se nic nevyřešilo
Díky Miloš Jedlička, Václav Holler, Jan Kellner, Ing. Jana Lang, Václav Marek ml., Miloslava Hlaváčka a další.
Update (26.3.2012)
Našel jsem v archivu velice zajímavé emaily ze samého počátku akce. Konkrétně s panem Ondřejem Šintákem (konzultant práce). Tehdá to vypadalo ještě nadějně.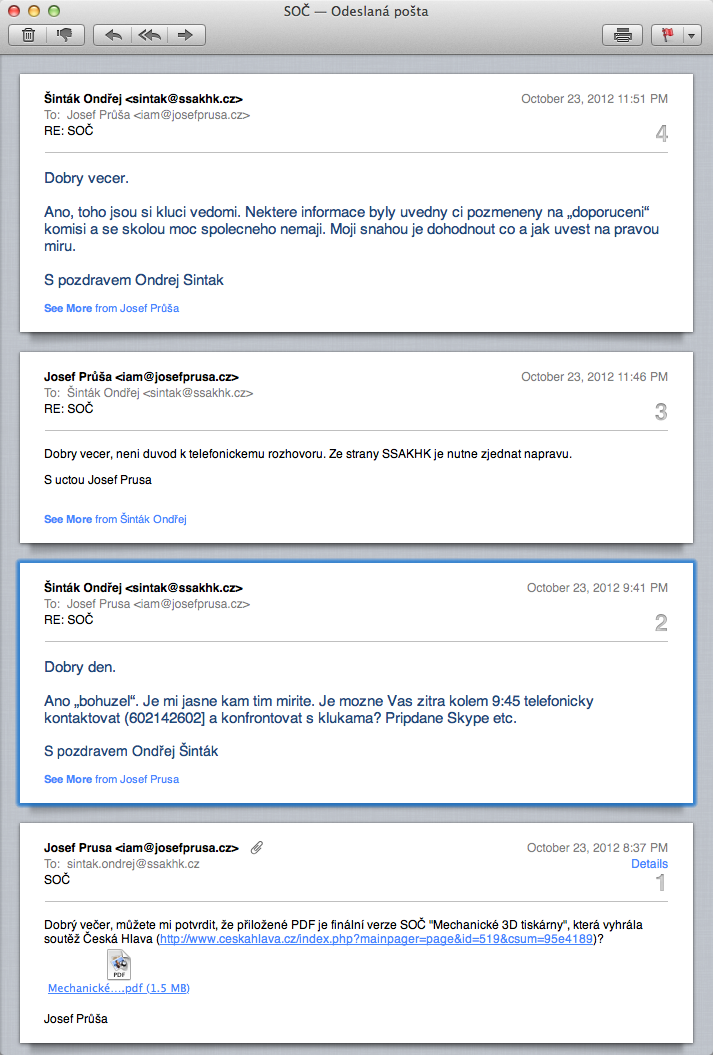 A nyní už samotný dokument.